Executive Presence: Unleashing the Leader Within
Hello and welcome back! In this month's article, we will examine a fundamental element of leadership that can significantly contribute to the success of your organization: Executive Presence. Expanding on what was covered in last month's newsletter regarding managerial skills, we will dive deeper into its meaning, trainability, and how current and future leaders can develop it.
Gallup's Report Highlighting the Importance of Strong Leadership
Our previous newsletter discussed Gallup's 2023 State of the Global Workplace Report, which revealed startling statistics regarding workforce engagement and employee attrition rates [employee attrition happens when an employee leaves an organization for any reason and is not replaced for a long time, or not ever], with only 23% globally considered truly engaged workers vs. a significant portion leaving quietly or outright, leaving organizations scrambling for strong leaders at all levels to address employee retention rates that remain below 23% worldwide. Organizations must immediately address this pressing need for strong leadership across their boards and management structures.
What Is Executive Presence (the It Factor or Aura of Leadership)
Executive Presence refers to qualities that inspire confidence, garner respect and foster trust in leaders. It goes beyond mere communication skills or charisma; instead, it encompasses confidence, poise, gravitas, authenticity, and the ability to influence others positively.
Are You Wondering If Executive Presence Is Trainable?
Executive Presence can indeed be trained. Though some individuals may seem more naturally inclined, executive presence can be developed through self-awareness, learning, and practice – making this skill more accessible to aspiring leaders and managers.
At CDC Consulting Partners, we believe that true leadership development grows into executive presence and requires a holistic approach. We acknowledge that lasting behavior change, and growth require more than an immediate fix. This is the reason why our leadership development Program is an on-the-job 12-month program.
Attracting Executive Presence: An Odyssey for Growth
At CDC Consulting Partners, we recognize that true executive presence development involves an introspective understanding of oneself, developing empathy skills, and honing essential leadership qualities over time.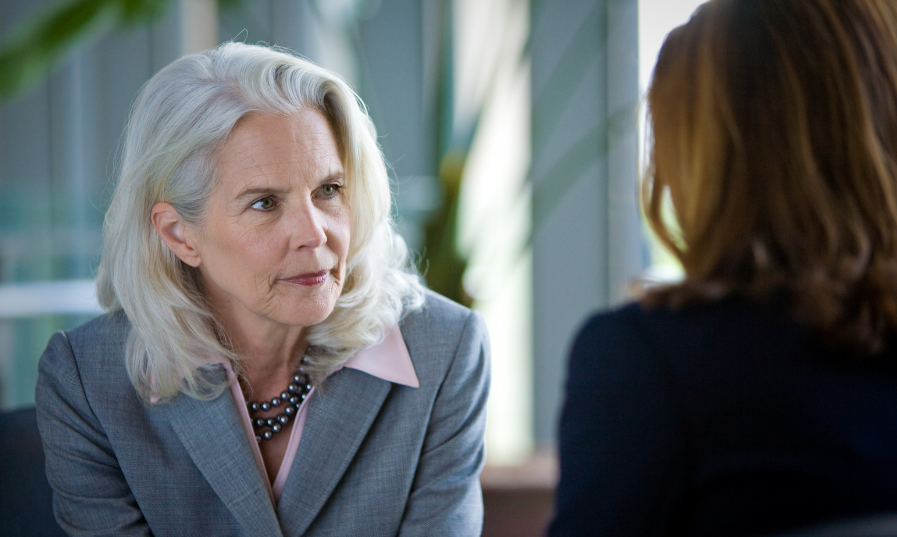 Benefits of Cultivating Executive Presence
Our 12-month leadership development program is tailored to give your managers the skills they need to build an authentic executive presence. By taking part, they will work on:
Self-Awareness: Gaining awareness of one's strengths and development areas is essential to personal and professional growth. Self-aware managers can better manage their own emotions, to then navigate the challenges their teams face while creating an atmosphere of openness among them.
Communicating Effectively: Good communication lies at the core of executive presence. Developing these skills allows managers to better inspire their teams for increased collaboration and productivity.
Fostering Innovation and Collaboration: Managers with an executive presence create an environment where ideas are valued, collaboration is encouraged, and innovation flourishes – creating an inviting workplace culture that draws in top talent while keeping it around for longer. This attractive work environment attracts and retains top performers.
Empowering Their Teams: Executive presence requires leaders who can encourage others to reach their full potential, thus leading to higher engagement and job satisfaction among team members. Managers with this characteristic have proven adept at supporting and developing their staff members for maximum results.
Investment in Executive Presence Can Drive Retention and Create Thriving Workplaces
Investing in developing executive presence among your managers is one key way to retain talent and foster successful workplace environments. Strong leaders possessing engaging, inspiring abilities can effectively engage and inspire their teams; employees who feel supported, recognized, and challenged are more likely to stay committed and put forth their best effort for your organization.
Unleashing Unrealized Potential
Now is the time to invest in your managers' development and unleash untapped potential in your organization. Together we can foster an atmosphere filled with energy, passion, and unwavering commitment – with exceptional leaders giving their staff what they need to thrive while continuous improvement becomes the norm.
Leadership is not about titles or positions; it's about making an impactful, life-altering difference and leaving behind a meaningful legacy. You can start creating ripple effects throughout the organization by supporting your managers' development and helping them establish an executive presence. Engaged and flourishing managers will inspire their teams to new levels of achievement while drawing talent in and shaping their future – shaping work into something productive and sustainable in the process!
So, let's embark together on this journey, creating exceptional leaders that can transform your organization and bring about real positive change. Stay motivated, dedicated, and inspired as we work hand-in-hand to enable managers to lead excellently, creating a future in which quitting quietly becomes obsolete.
Keep striving to reach new heights of achievement!
Cristina Ferreira da Costa
President & Founder
CDCConsulting Partners, LLC
+1 (404) 528 9792
[email protected]
cdcconsultingpartners.com